charlotte | "my favorite her."
i don't know what it was about this weekend, or the month i had leading up to it, that made me feel not only like i was really ready for my weekend in charlotte, but also like it was needed.
i wanted to see my mom. i was excited about our mother's day girls' day we would have on saturday. i was couldn't wait to spend time with luca and talk to him in person (because chatting on the phone or facetime is hit or miss these days). i knew we were planning on having a pool day for mother's day, which is like, the next best thing to being at the beach with all the sunshine and smelling like sunscreen and all.
maybe it was because we had plans already made, so it was something to look forward to. maybe it was because i got sick in the month between my visits, and nothing makes you want your mom and be "home" like being sick. maybe it was because my last two visits were only two weeks apart and now it's been four, or because my last visit involved a lot of sharing my people with other people. maybe it was because i recently realized that it's almost been a year since i completely let go of everything, and it's a strange and hopeful (and sort of exhausting) feeling to realize where you've been and how far you've come.
whatever it was, i felt like i could cry on the last few minutes of my drive, as i pulled into T's neighborhood. tears of relief. tears that felt like i was in a place where i could breathe again (when i didn't know i had been holding my breath). tears i didn't know i had inside me, really.
there was a small gap of time between when T had to leave and when i would get there, so my dad went and sat on the couch while luca napped and T left so i could hang out with luca after he woke up and for the rest of the afternoon.
this photo is actually from monday when i went in to wake him up, but it's relevant here as i talk about how sweet he is (and how much i miss him) when he sleeps.
fortunately, he woke up shortly after i got there on friday. he was sitting up in bed when i went in to get him and when i opened the door, his face went from excited that someone is coming to get me to excited that it's AUNTIE.
we spent the afternoon playing with his toys.
first, he spent a good twenty minutes walking (pacing) around the living room, picking up toys and describing them to me (chase is a robot, he transforms into a police car) and then telling me who got them for him. this is a new thing he does – either telling you who bought an item or asking who did. there was "i don't know who got me this" and, at this stage, he repeats everything he says until you acknowledge it.
what i mean is, we had a lot of repeat conversations because i have no idea who bought his toys, except for the ones i bought. which i made sure to point out, by the way.
next, he played with his toys while i sat and watched him. he plays very well independently, which also means you are kind of left sitting there. after a while, i started coloring on his art easel. when he noticed, he said, "you coloring?" and then went back to playing by himself.
lastly, we (i was included this time) played outside until T got home. i pointed it out that she had just pulled in and luca replied by saying, "no, i'm staying with auntie sarah." which, of course, made my heart melt into a giant puddle on the sidewalk.
he's a lot more vocal these days, saying what he's thinking about, which means he says a lot more super sweet things. (and also, a lot more no's and i don't want to's.) it's like he's becoming more aware of things and making connections between them, in a more vocal way. he notices when you leave a room and asks where you are, he asks what you're doing or what you're eating or tells you what he's doing or what he's eating, he tells you facts about his toys, he'll volunteer stories about thing that have happened (and also things that didn't happen), he'll let you know about the toy that sits in the bathroom across from his potty and the rule that he can't touch it until he poops on the potty.
listening to him talk is my favorite activity.
the next morning, while looking for one particular toy, he found his magnifying glass and spent the next hour or so looking at all of his toys very intently, sans pants.
he would go from one toy to the next to the next, transforming his guys into robots to look closely at their faces. T and i sat and watched, and took photos and videos.
everything he does is the best and most fascinating.
when nana arrived for her surprise afternoon with T and me, she made sure to be chewing a piece of gum so she could blow bubbles for luca.
bubble blowing makes him both excited and nervous. excited because it's super cool. nervous because "it's sticky" (and he doesn't want it to touch him, i guess).
our first stop on our mother's day girls' day was this new salad place called chopt.
it's basically like a chipotle except instead of a burrito, you build your own salad. at the end of the line, they chop (GET IT) it all into bite-size bits and mix them together on this board, coldstone creamery style. and then, to top it off, they give you free bread.
highly recommend, especially for the punny decor they have in the bathroom, as pictured above.
next, we went shopping at this place called soft surroundings, which gets its name from the fact that almost every clothing item in the store is SO SOFT.
on this particular saturday, they had complimentary champagne and macaroons.
the thing you need to know about this is that my mom picked up a purple macaroon because it was "such a pretty color." which, it was. but you know the prettiest macaroons are never the ones that taste the best. after looking at the card listing the flavors, i realized the purple one was peanut butter and jelly.
and that's how i ended up with a peanut butter and jelly macaroon, because i took my mom's so she could have the chocolate one. which, if you zoom, is actually half eaten in this photo because my mom wastes no time eating her snacks and getting to the shopping.
after that, we went to the movies and saw mother's day. because, mother's day. my review is that it was a lot funnier than i thought it would be and a lot sadder (like, cried actual tears) than i thought it would be and i don't regret spending over $10 to see it.
on sunday, we had a pool day. i actually don't know who was more excited about this. luca, or me.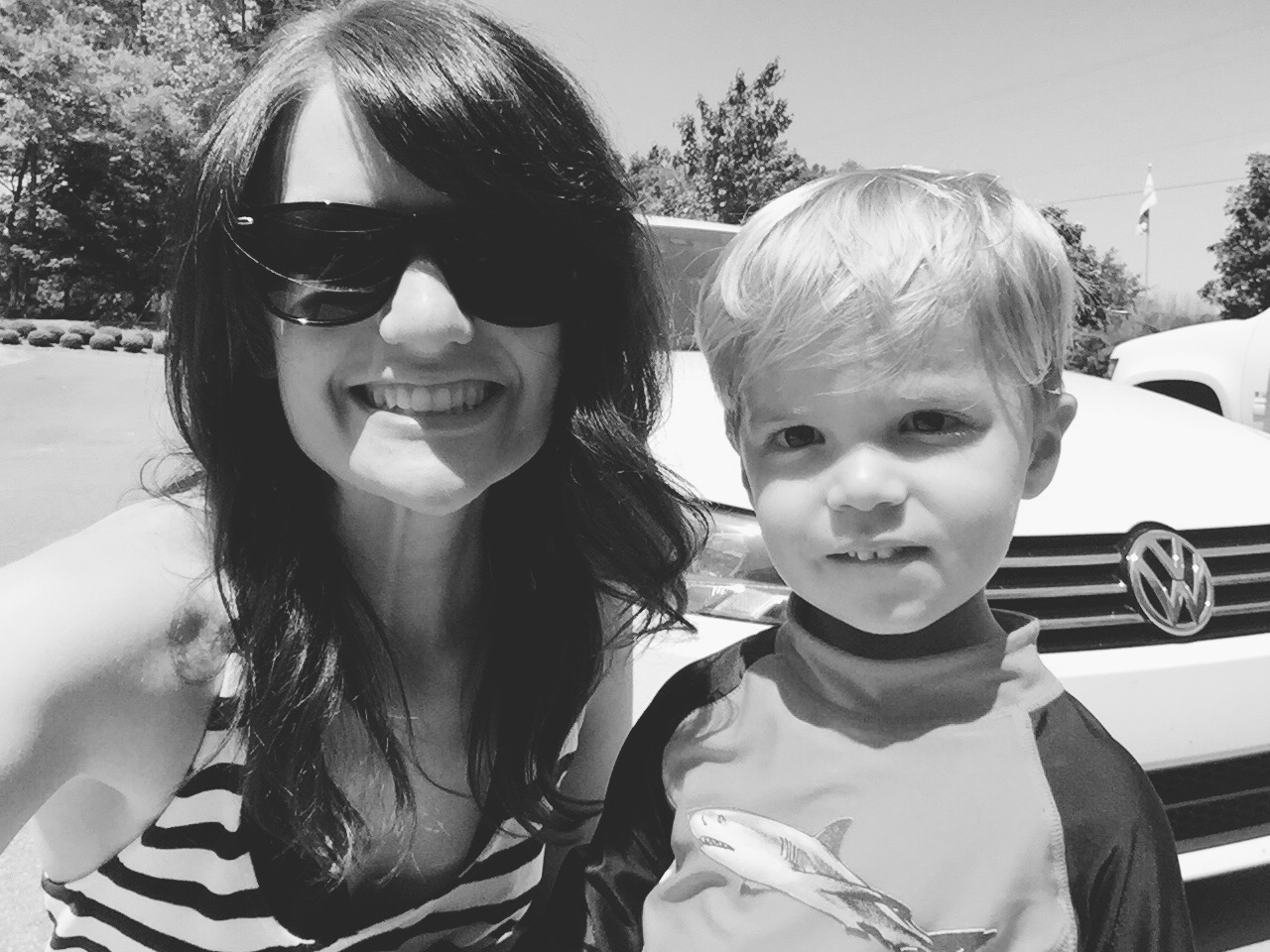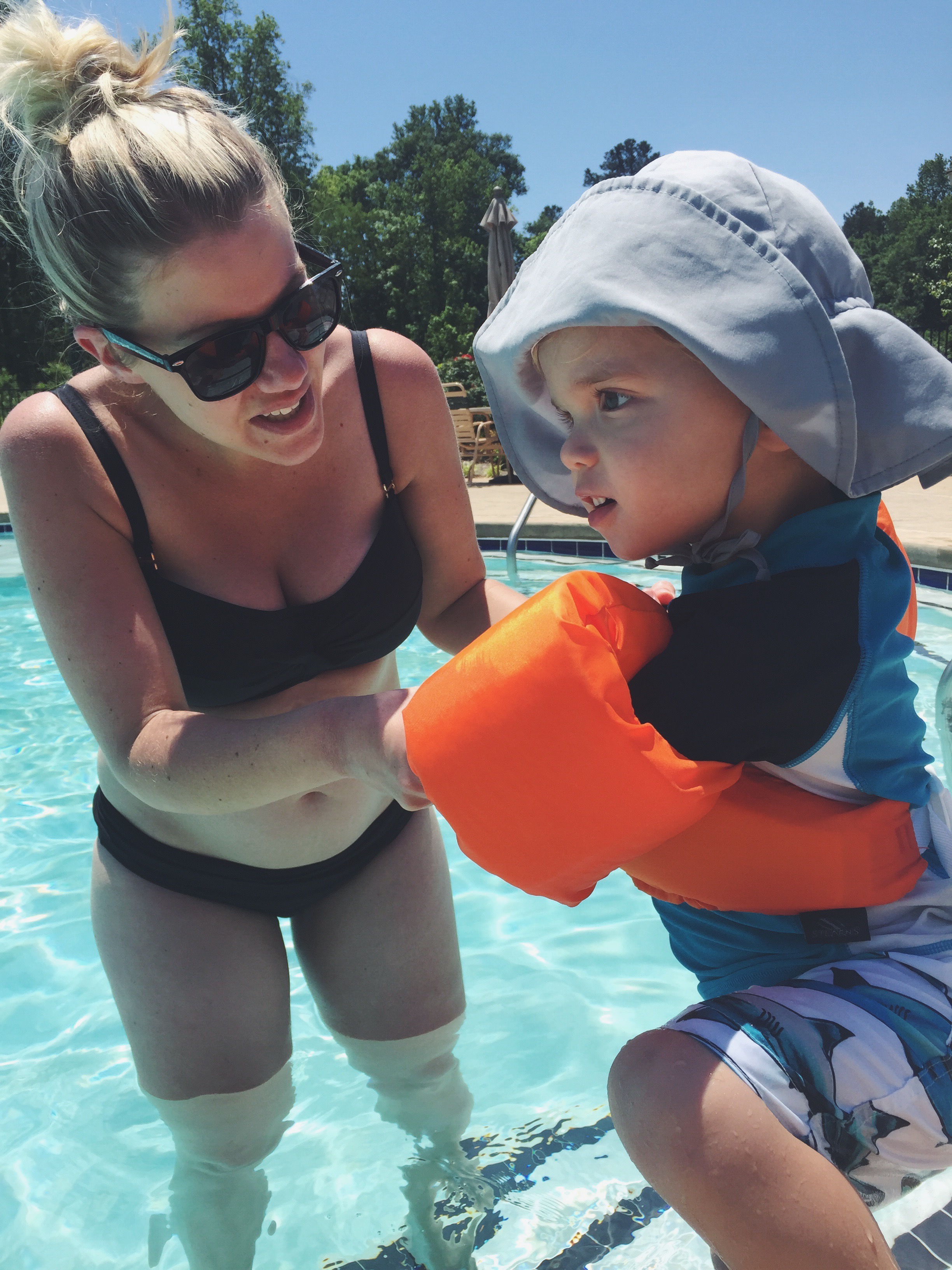 in the kiddie pool, luca walked around and splashed us or he would go up the two steps out of the pool so he could jump back in on each step.
in the big pool, he would let us walk around with him while he "swam," but he mostly liked this one game he played with nana where he walked on the little ledge just inside the pool like he was casually taking a walk and then he would say "one piece missing!" as he got to the end, and he would jump off like the road he was walking on had a piece missing and he "accidentally" walked right off of it. he would giggle so hard every time.
that's the thing about being little. you can do the same thing over and over and over again and it's still so much fun every time.
back at their house, lee took luca outside to play while we got dinner ready, but apparently the sun was too hot on the patio, so he moved a chair way out into the yard to sit in the shade while luca played/"mowed the lawn." walking out to this scene was the funniest thing.
luca likes to play hide and seek these days. he will randomly hide and let you know by saying "i'm hiding on you!" or saying "shh shh" so loud that you can hear it. in that way he likes to play the same game over and over, he won't even leave the hiding spot after being found – he just goes on hiding some more after you've walked away. a few times, i've joined him after finding him. his face while hiding, anticipating someone finding him, is THE cutest. i wish i could bottle it up.
after dinner, he kept hiding in the pantry. then i joined him. i snapped a photo of our tight space and also took a video, because i want to always remember those random moments when we hid in the pantry, doors cracked open, saying "shh shh," and him reaching up to hold my hand while we stood there waiting to be found.
on monday morning, i took luca on a date. so T could get some work done, and so we could get a donut.
for the sake of time and proximity, we went to dunkin donuts. he likes the kind with pink frosting and sprinkles.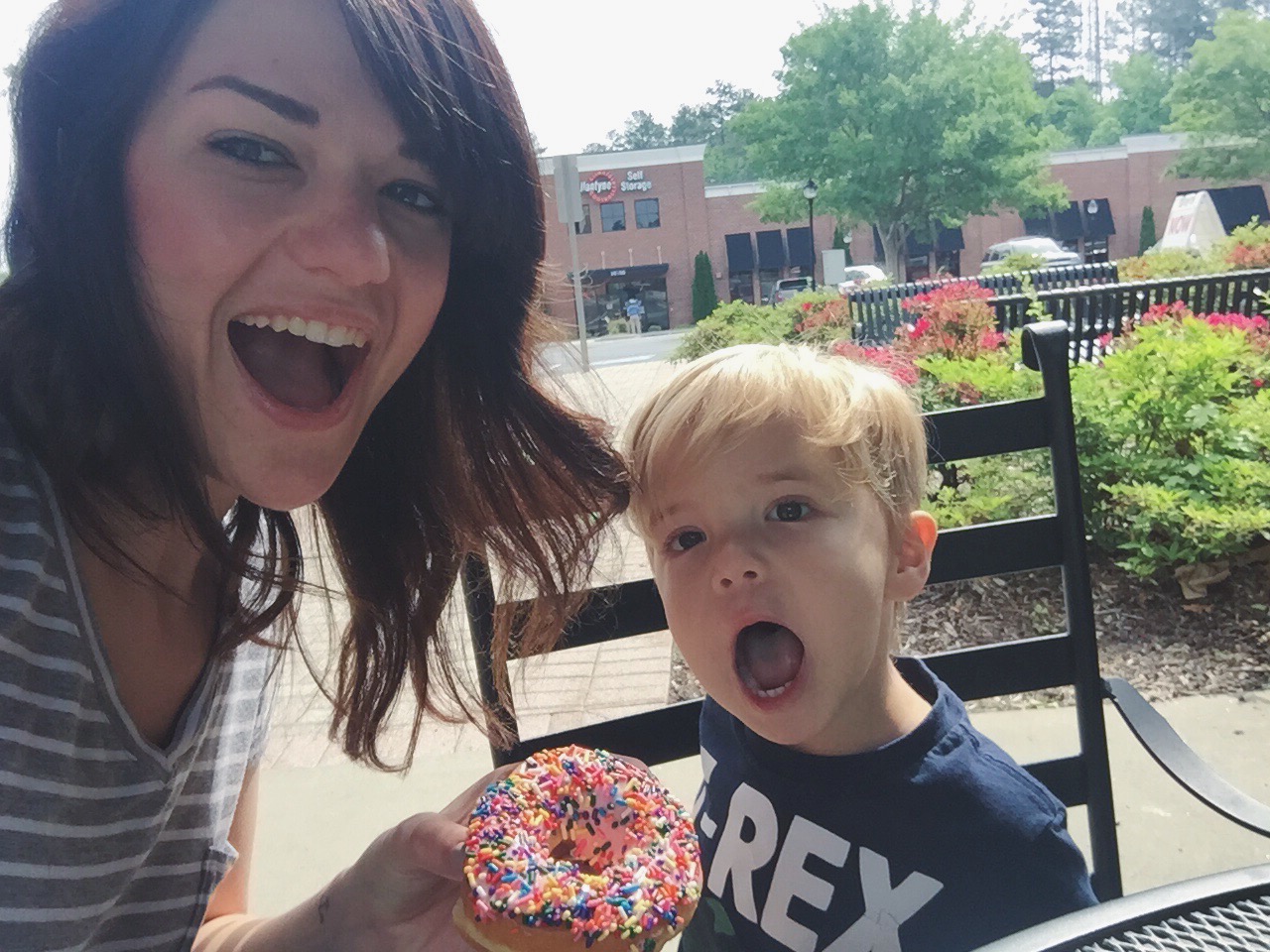 since talking to him is my favorite, here are some things we talked about as we ate our donut.
luca: chase transforms into police car, blades transforms into ha-hopter (helicopter), bumblebee transforms into race car, (giant breath of air) boulder transforms into bzz-bzz-bzz-bzz-uzz-er (bulldozer), otimus pwime transforms into truck.
sarah: is jesus your friend?
luca: yeah, he texts me.
luca: where is he?
sarah: where's who? jesus? he's here! he's always with us.
luca: (looking around) where is he?
sarah: you can't see him, but he's here. he lives in our hearts.
luca: (looking around more) no, he not here yet.
sarah: i love you, luca.
luca: i love daddy.
(had to include this one because it happens every time. no matter who you are, he has to clarify that he loves daddy. and you. but also daddy.)
we also went to the park and played with his ninja turtles figurines on the playground. we listened to taylor swift – "bad bwud" (bad blood) & "we-come me-yuk" (welcome to new york) – on the way.
these two photos make me laugh out loud because he must have been in the middle of playing when i said his name for that first photo. his face in it just kills me (as it does, always). he was not really wanting to cooperate, so i said, "say PIZZA!" because we were about to go home and eat pizza for lunch.
to my surprise, it worked.
i don't really know what else to say except that he's the best person i know.
i left on tuesday, and i don't know if it's because we always just hang out on the mornings before i leave and he is the type of kid who will randomly come over and give you a hug or climb in your lap to snuggle when we're just sitting on the floor, or if he knows i'm leaving. but he's always the most randomly affectionate on the mornings before i leave.
we had lunch, and then i brought things out to my car before my final hugs and goodbyes. as i was putting stuff in my car, he told T that i was his "favorite her."
i don't even really know what that means, exactly. but i love it. i love that he said it, that he said it about me, that he said her.
because you know what? he's my favorite him.