in chattanooga.
over the weekend, i went on a quick trip to chattanooga with my friends, tab and mandy, to celebrate mandy's birthday. chattanooga is only two(ish) hours from nashville, but we made a weekend out of it, spending two nights in this cute little airbnb that's attached to a barn, with real horses roaming around outside. the hosts let us know that their horses, rocky and spook, like apples. wink, wink.
obviously, we brought apples.
we started our day at maple street biscuit company. here is what i need you to know: literally every single bite was delicious and there was nothing left on my plate by the end of our meal, they have maple coffee, and rather than asking for your name to put on your order (because that is boring), they ask a question instead.
we noticed something a bit funny about the names they were calling out as we waited in line. chris pratt, matthew mcconaughey, jesus. we thought people were being funny until we got up to the counter and the guy asked, "if you could have lunch with anyone, who would it be?" without taking a breath, tab suggested chris evans. we laughed, because yes. we would absolutely like to have lunch with chris evans, thank you.
as we were walking away, we heard them call out another. "jesus!"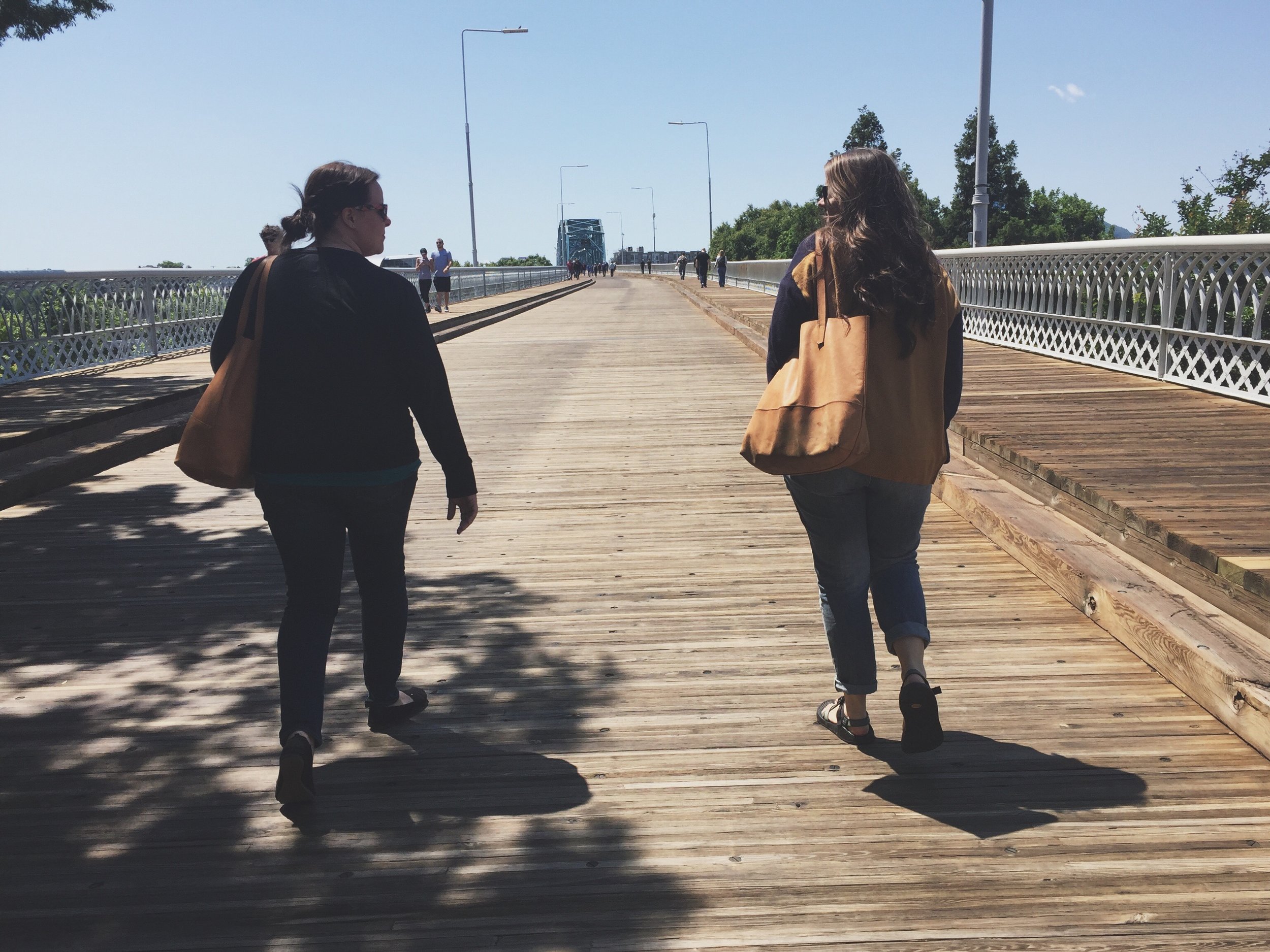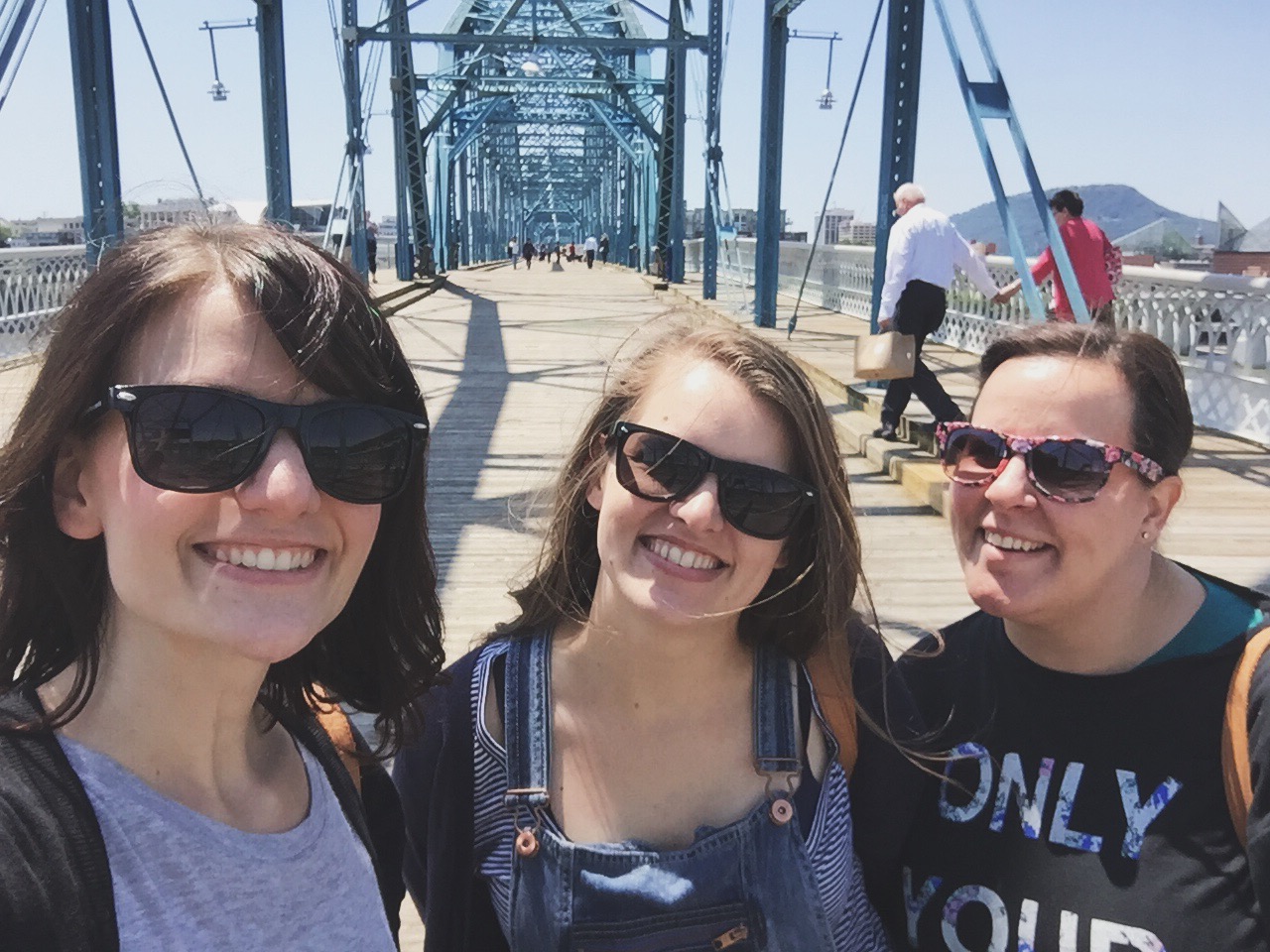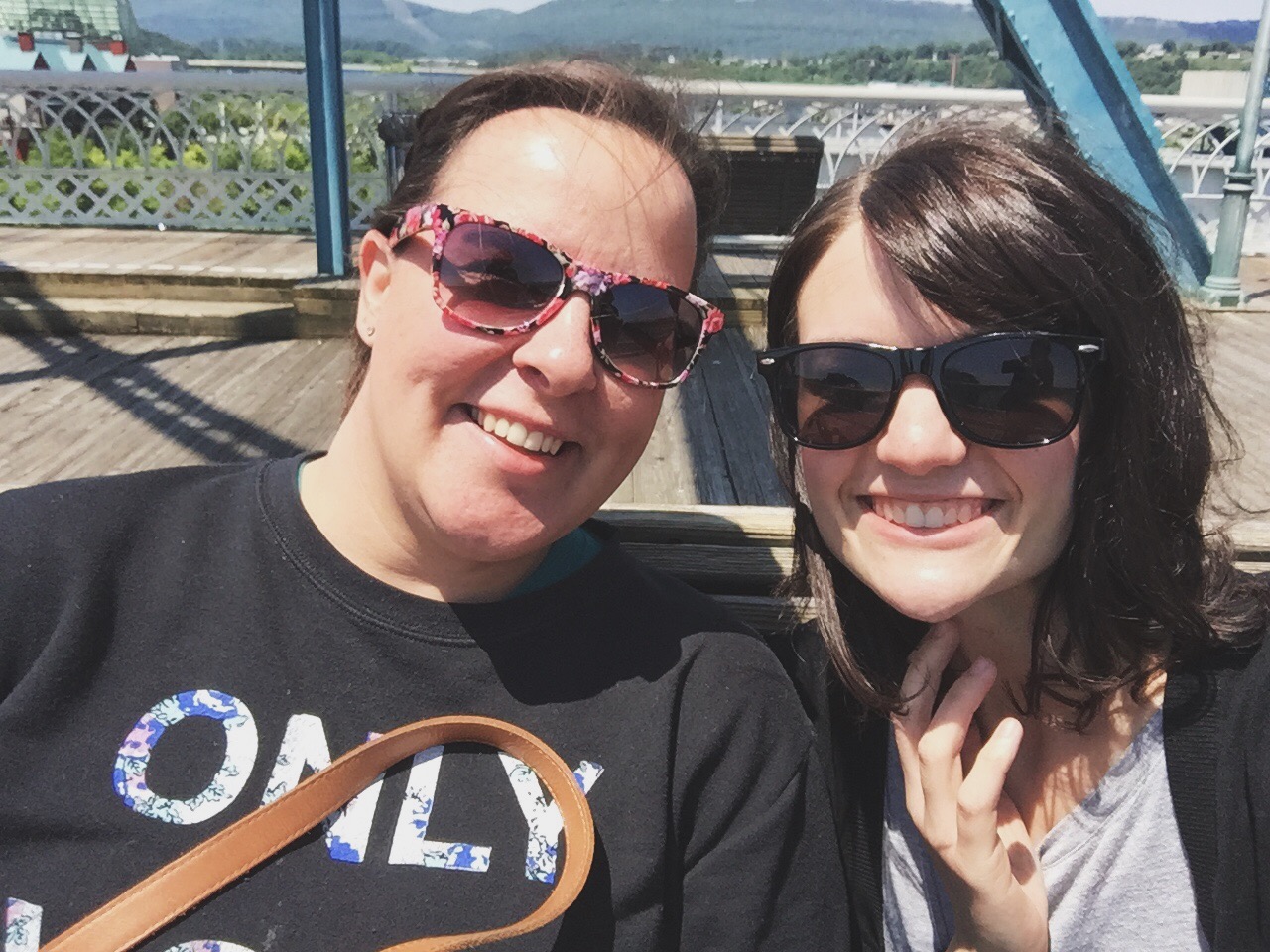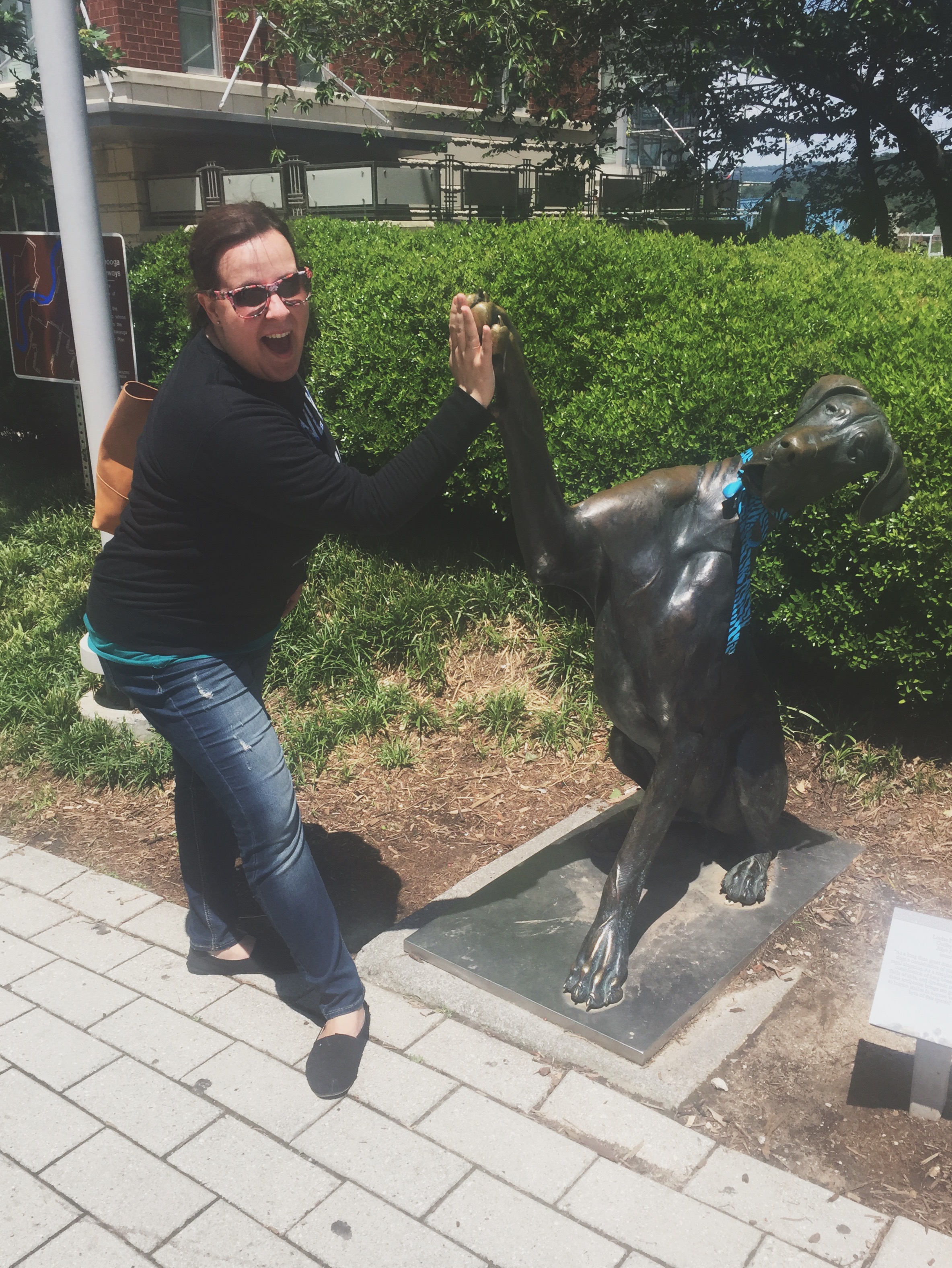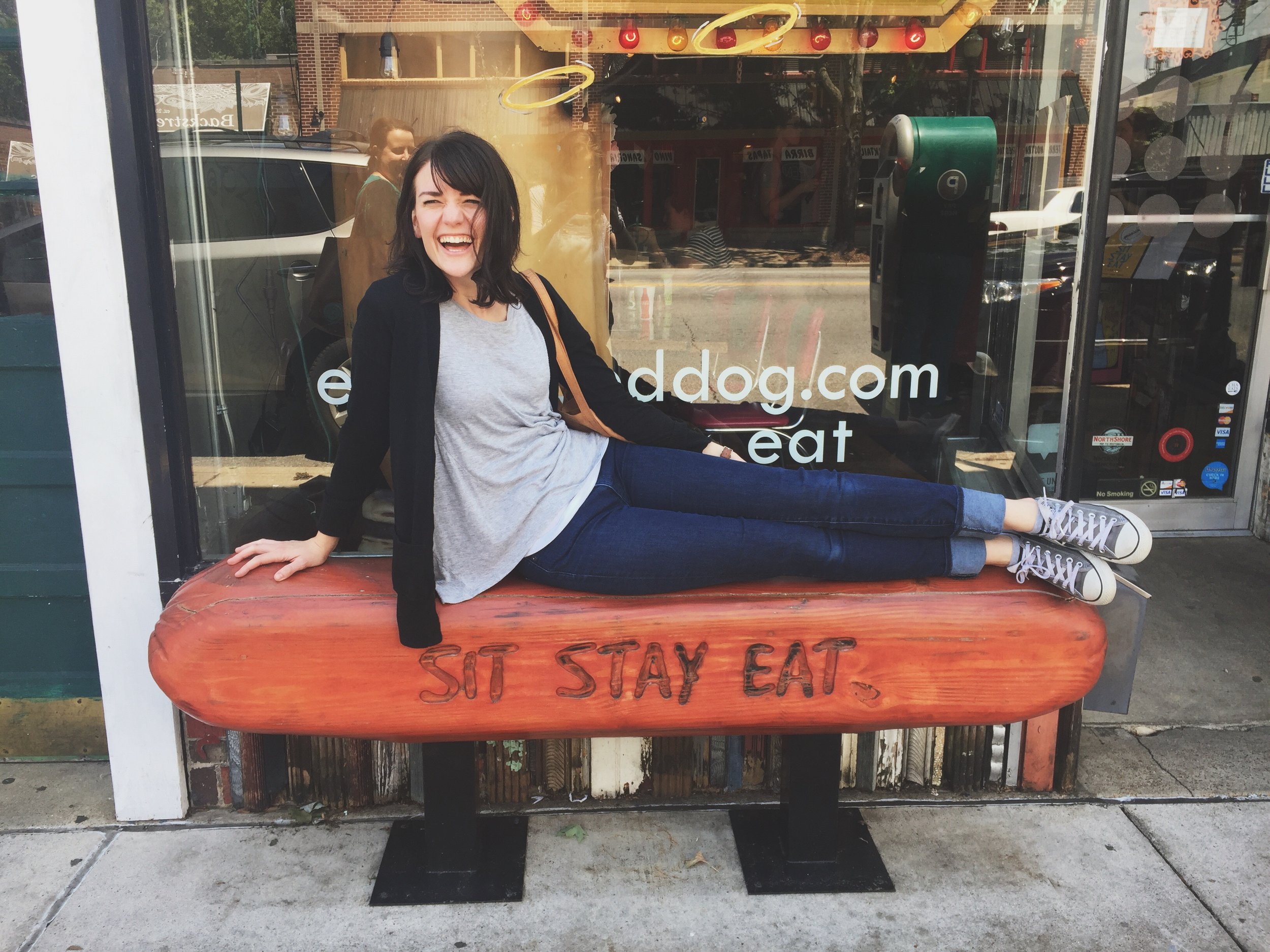 we browsed antique shops, walked across the walking bridge, stopped in rembrandt's coffee house. we talked and laughed and swapped nanny stories (because we are all nannies – which might be evident from that first photo, in which mandy is candidly holding a "pat-a-cake" book).
the weather app was showing raindrops all week. as the day got closer, we saw the rain was supposed to come in the afternoon. thankfully, it held off and the weather was perfect, sunny and breezy. your classic april 25th weather, except it was may 6th.
we found julie darling donuts and exercised an incredible amount of self-control in saving our donuts for later so we could eat a proper lunch (at beast + barrel, which i keep wanting to call bread + barrel) first.
what ended up happening, though, was that since we ate such a late lunch, we decided to skip dinner and pick up some snacks and movies on the way back, so the donuts ended up being a kind of dinner. along with chips and salsa.
but first, we tried to visit the horses after we got back, before the rain, but they were hanging out in the middle of the field and expressed no interest in moving any closer to us. even as we called out to them and waved the apples in the air.
y'all, our enthusiasm was REAL. we laughed so hard at ourselves, decided to take a boomerang video, and i just googled how to create a gif so that i could share it with you.
you're welcome.
we walked down to the creek as it drizzled, calling it an "adventure." we were only half joking. i need to be in a kind of adventurous mood to willingly walk outside in the rain, in tall grass.
tab, on the other hand, was basically in her happy place.
our movie picks were passengers, because CHRIS PRATT and jennifer lawrence (and because tab had seen it and loved it), and florence foster jenkins, which we had actually never heard of but figured you can't go wrong with meryl streep and hugh grant. and it's only as i'm typing this that i realized we picked our movies entirely based on the actors.
both were great picks, but i have not stopped thinking about passengers. i have a lot of questions.
the next morning, the horses must have been hungry enough because they showed up when they saw apples. but it was very clear that they were in it for the apples, and only the apples. tab later described them as having sass similar to what you'd experience with a cat, and i would say there isn't a more accurate way to put it. i have more than one photo in which they are giving me an unmistakable side-eye.
you're welcome, for the apples.
we were all scheduled to volunteer at church that day, so we headed home from there, stopping only for breakfast at cracker barrel, obviously.